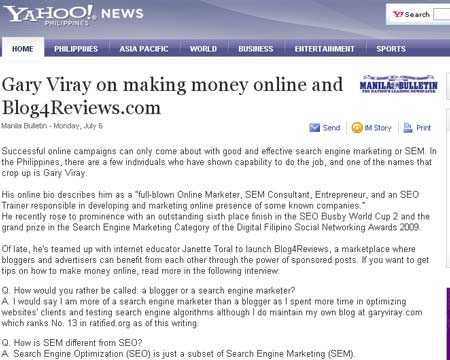 Last July 6, 2009, I got some copies of the Manila Bulletin newspaper because I was featured in Blog-O-Rama Section. The article was entitled, Gary Viray on Making Money Online . It was just a simple interview actually which Annalyn would describe as "short and sweet". Honestly, I enjoyed answering the questionnaire because it directly asked the basics of Search Engine Optimization (SEO) and Search Engine Marketing – SEM Philippines.
My interview was also posted online in Yahoo! Philippines which hopefully has generated interest for those who wanted to start making money online using their blogs.
Part of the interview was about Blog4Reviews.com which was just recently launched as the first ever Blog Networking site in the Philippines in order to help facilitate pinoy bloggers to earn online. Although the said site is still in its beta version, it already has started accepting advertisers and bloggers as well to join the network. So far, Blog4Reviews.com already has around 200 plus bloggers and a good number of advertisers who have joined the network which I do hope would increase in the next few months.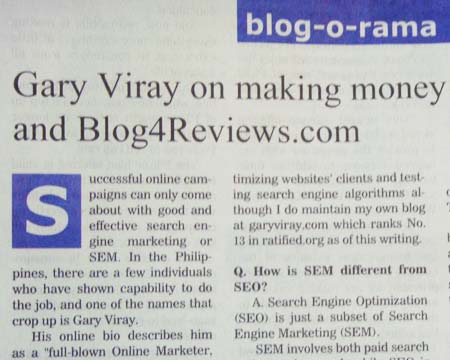 Now, if you think you are a blogger who wants to monetize your blog then I encourage to join the network, Blog4Reviews.com.
Moreover, if you want to learn some few tips on how to make money online, you can read the full script of my interview which was also posted here.