Update: I am supporting SEO Hero Wix contest.
A bit of warning. This is not for you if you have been awesome doing all that is good and great in SEO for your clients.  This post is meant for all those who have been experiencing (even until now!) the wrath of Google's Panda/Penguin algorithm. This article is written for those who are still clueless not seeing the "light" yet, in spite of all their efforts to resuscitate their websites.
One of the hardest challenges in being an SEO is to be approached by a client whose website is penalized by either algorithmic (Panda/Penguin) or manual reasons.  But I tell you, it is a rewarding job being a practitioner of the craft especially when you're able to bring a business back on track. Your client will thank you for saving his/her company.
Here is a TRUE story. 
Below is the revenue of the client during penalty and after it was lifted.  From $14,750/mo to $60,000/mo and it's still growing to this date. 
The story began when…
1. We Signed-up with a Penalized Client
We've already suspected from our initial audit that the client we were about to sign-up was penalized by Panda and Penguin due to its gradual decrease in traffic among other things. But still, we took the client even though it seemed to be doomed, thinking that we may still have time to revive it. However, two days after the contract signing, the dreaded Google Webmaster Tools message came.  See below.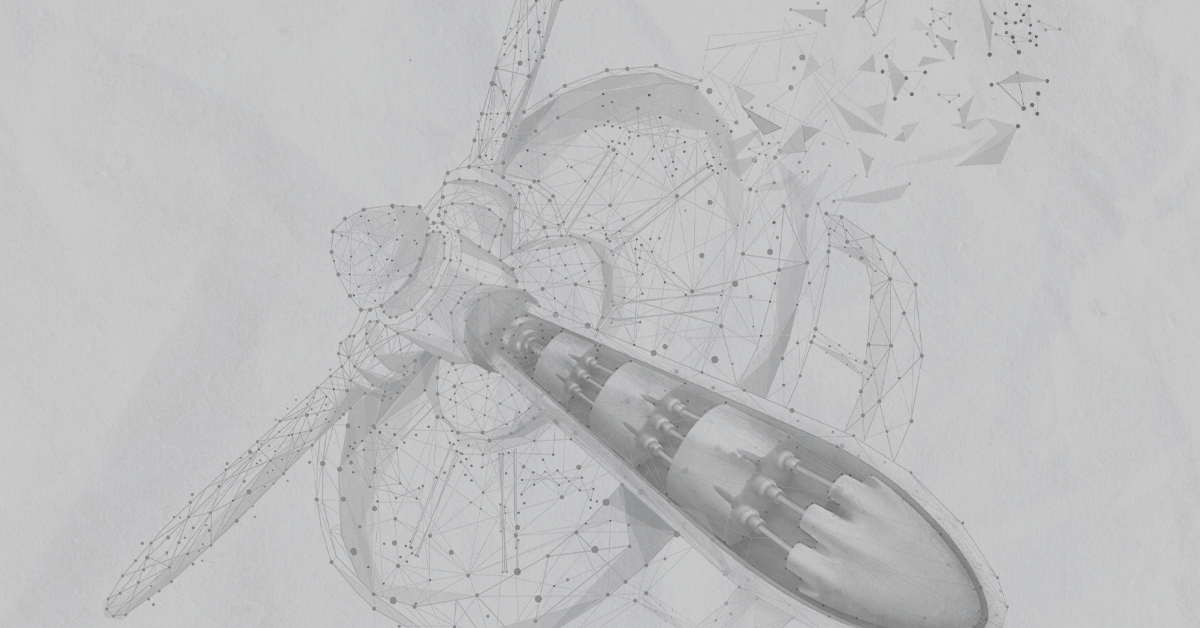 We have not lifted our fingers yet, so to speak, and we were already in a perfect storm situation.  We now have a manual penalty and the algorithmic Panda & Penguin at work.  A triple whammy!

See the sudden drop in traffic?!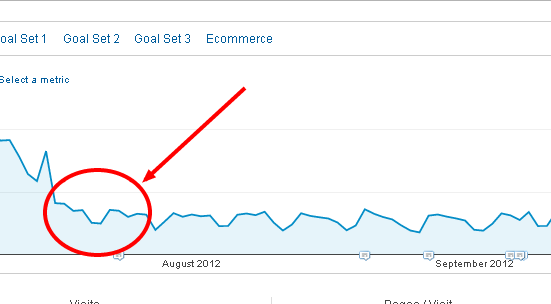 2.  Laser-like Backlinks Audit
So, we grabbed all the backlinks we can get from the client's website using Google Webmaster Tools, Majestic SEO and Open Site Explorer. Paying attention to those anchor texts that were unusually high in backlinks causing over-optimization, we used John Doherty's method in assessing Penguin Penalty.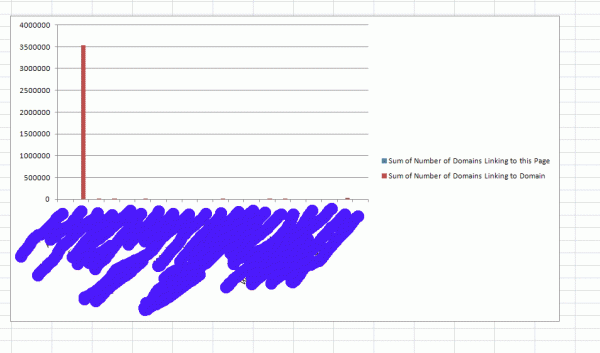 We've asked all past SEO reports from the client in order to speed up audit of its SEO activities. The good thing was that he kept a bunch of reports from his past agency but they were all link sellers.  Using Link Detox by LinkResearchTools helped us too in uncovering more potentially toxic links.
Take note, the client's SEO activity for the past 5 years were technically considered by Google now as low quality, unnatural and deserving of a penalty.
3. The Road to Link Cleansing is Daunting
It took us more than 4 months to email site owners requesting removal of our client's links. I guarantee you this activity is the nastiest of all in bringing back a penalized website but we are glad that Boomerang for Gmail came in handy.  We made sure all emails  and follow-ups we've made were all recorded via Google Docs. This included rejected  and approved requests.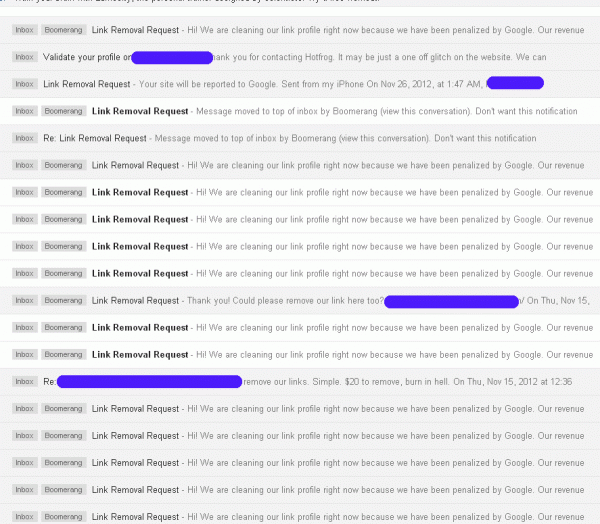 PRO Tip: You need to document all of your activities in reaching out to webmasters for your link removal requests whether they are successful or not because the Google Web Spam QA Team reviews your efforts based on your documentation and it is an important factor for your manual penalty to be lifted or not.
4. Be Not Afraid to use the Google Disavow Tool
There will certainly be webmasters out there who will strip you down to the bone asking for money in exchange of link removals. These are the most soulless snake oil salesmen on earth. We've documented and submitted their replies to Google too. You can also include all those rejected link removal requests and bounced emails due to misinformation on email addresses used by other webmasters via WHOIS.
We've included all those sites that we failed to remove links from to the Google Disavow Tool  text file. I've curated articles about the Google Disavow Tool and posted it for your reference.
See below a snake oil salesman haggling for bucks!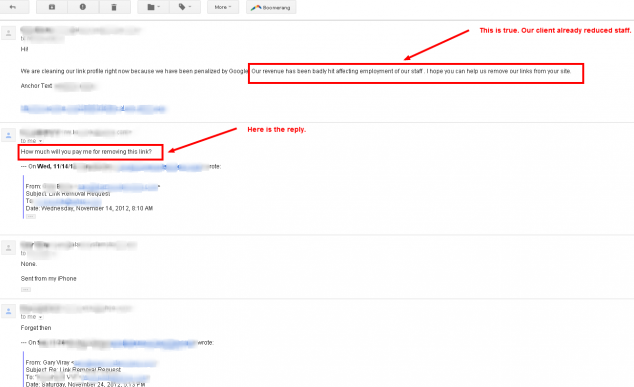 (Click to enlarge image)
Pro Tip: Never give in to webmasters asking for money in order to remove your links. Your reply saying a simple "No" is already fair enough to tell the Google Webspam QA Team that you are serious with what you are doing in helping them "cleaning the web".

5. The Google Reconsideration Request
We've submitted our first Google reconsideration request and guess what, we failed. See Google's reply below.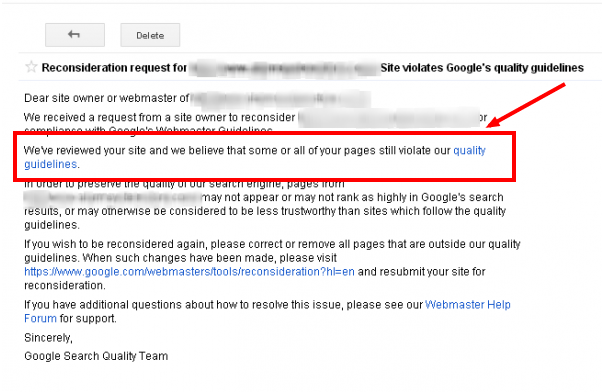 However; we did not lose hope with their reply. Instead, we continued on what we have been doing in removing links and improving the client's website in terms of user experience, page speed and applying all those best practices for on-page optimization.
Pro Tip: While you are doing your link removal activities, it is best that you are also working on creating linkable assets, improving web user experience, social outreach and content marketing in order to have your base quality link sources already being built to replenish the lost ones.
Here was the reply from Google on our second try. See below.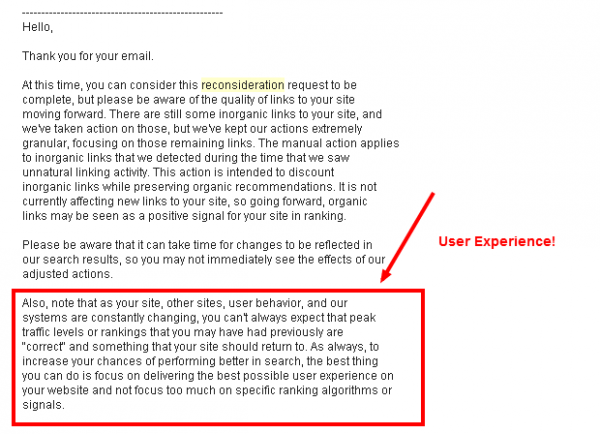 Google's reply stated that there are still traces of inorganic links to our client's site but we were not worried because we knew that we've already done a decent job on link cleansing (which we are still doing until now) and the Google Disavow Tool submission we've made will handle the negative algorithmic effect of those inorganic links.
6. Out from the Saddle and a Sudden Slap (again!)
One week or so after Google replied, the traffic started to increase. However, our "feeling good" moment was interrupted by a sudden drop on the traffic again! See figure below.

What went wrong? The culprit was a single 301 redirect we've made from an old page (with too many inbound spammy links we've removed during our cleansing activity). For whatever stupid reason, we redirected it to another page and boom! the drop happened. True enough, the negative effect from spammy links can really cause damage to a website. We have been reading and hearing it from others but our first hand experience, validated it. So, we removed the 301 redirect and the awesomeness resumed! 

My Personal Take:
Recovering a business like what I've cited creates a lasting impact not only to the client but also to the team involved in the entire process. For the client, he vowed not to do anything about spading the spade anymore. It taught the client the importance of investing on real world marketing (RCS as Wil Reynolds may call it). This is what I call, "providing REAL value to customers". 
We just saved another business. Aren't we heroes in our own little way?  =P
This is one of the reasons why I love SEO.
Update: 
For clarity's sake, the "webmasters" I am referring to as "snake oil salesmen" are those webmasters that manage made-for-seo sites, cheap link directories, blog networks selling links and etc. They already collected money from the client by selling links but still ask for more when asked to remove the links.